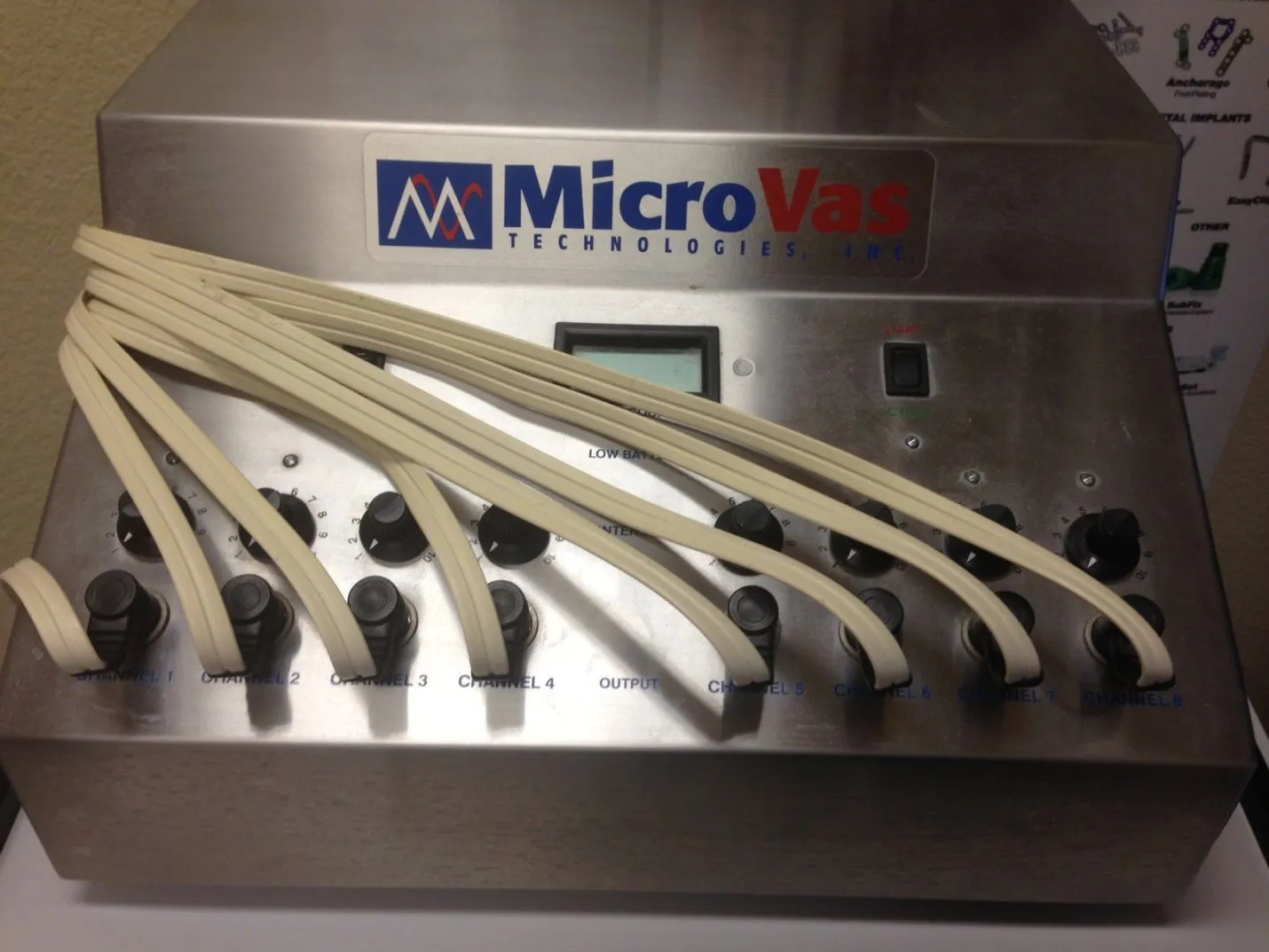 What is MicroVas Therapy?
MicroVas therapy is the most advanced form of ionic impulse therapy on the market today. Unlike other forms of electrical stimulation which penetrate only a fraction of an inch and have both positive and negative electrodes on the same surface, MicroVas therapy treatments pass completely through the limb or body area under treatment. The emitter pads are always 180 degrees from each other and are usually placed in multiples to treat an entire limb or body area. The emitter pads reverse polarity prior to each impulse resulting in an alternating directional pulse. This provides unrivaled tissue penetration especially in the extremities.
How Does MicroVas Therapy Work?
By using a digital current source to stimulate neuromuscular contractions that drive the venous muscle pumps, MicroVas therapy improves blood flow and tissue oxygenation, which in turn helps stimulate angiogenesis (a healing and rebuilding mechanism) within the body. MicroVas stimulates nerves, muscles and all 3 branches of circulation (arterial, venous & lymphatic).
How Long has MicroVas therapy been around?
The technology was developed between 1988 – 1989 by US military laboratories to treat hypothermia in Navy Seals. As its use expanded, the health benefits of MicroVas therapy became applicable to an ever expanding list of indications.
How does MicroVas Therapy help the Human Body?
Increased Circulation: Micro vascular therapy immediately and dramatically increases blood flow which perfuses the capillary beds and elevates tissue oxygenation, aids in fibroblast proliferation and collagen formation, up regulates platelet derived growth factors and boosts transcapillary exchange of nutrients.
Involuntary Exercise: Retrains and rebuilds muscle, aids in restoring flexion, range of motion and strength. Elevates metabolism and production of local metabolites.
Lymphatic Drainage: Boosts lymphatic drainage from 10- fold to 30-fold, which relieves swelling and inflammation, decompresses nerves in constricted spaces and boosts the body's immune responses.
Pain Management: Palliative effects of MicroVas therapy include the blocking of neurological transmission of pain signals and stimulation of endorphins
What type of conditions does MicroVas Therapy help with?
Healing of fractures of the foot and ankle
Complex Regional Pain Syndrome of the foot and ankle
Tarsal Tunnel Syndrome
Charcot Arthropathy
Rheumatoid Arthritis
Osteoarthritis
Edema
Achilles Tendonitis
Plantar fasciitis
Neuropathy
Sprain of foot or ankle
Chronic Pain in the foot and ankle
What are the contraindications of MicroVas Therapy?
Implanted cardiac pacemaker
Implanted cardiac defibrillator
Recent unstable or untreated stroke
History of melanoma
Active bleeding disorders
Deep venous thrombosis
Currently pregnant
How is MicroVas Therapy Administered?
Each MicroVas treatment lasts 45 minutes and is administered twice weekly in 4 week intervals. After each 4 week interval, the Doctor will evaluate your response to therapy.
What is Neuropathy?
There are many causes of peripheral neuropathy, the most common being: diabetes, alcoholism, radiation and chemical treatment for cancer. The most common cause that is seen by the providers at Advanced Foot and Ankle is Diabetic Peripheral neuropathy which is caused by the gradual destruction of the nerves in the feet due to high glucose levels. At Advanced Foot and Ankle Center our providers use a combination of treatments for their patients. One of these treatments is MicroVas, which is a unit that stimulates microcirculation and blood flow to the nerve which allows the nerves to regenerate. The patient needs to be aware that improvement will be gradual and may take several months, although some patients do feel a difference quickly. The treatments duration is 45 minutes and is recommended 3 times a week initially. The patient essentially just sits and relaxes while the unit is attached to the patient's leg and gradually increased in intensity to their level of tolerance. This therapy in combination with Neur-Rx, a vitamin especially designed for diabetic neuropathy is very effective. The Microvas encourages blood flow to the nerve and the Neur-Rx nourishes the nerve and encourages re-growth. At times, our providers may recommend an epidermal nerve density test to measure the amount of nerve fibers in the skin and to obtain a baseline prior to initiating treatment. Another skin biopsy can be obtained to monitor the efficacy of treatment and evaluate for new nerve growth and the density of the nerve re-growth. MicroVas is usually covered with private insurances; however, Medicare does not pay for this treatment as they consider it "experimental" Therefore, payment plans are offered for these patients as an alternative.